Hidden Wisdom
by Richard Smoley & Jay Kinney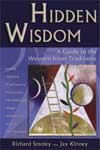 Published by Quest Books

paperback original, $18.95

ISBN #0835608441

Order it Now



The co-editors of Gnosis magazine explore the many esoteric traditions that Western culture has to offer. While terms from Eastern spiritual practices such as zen, mantra, and karma have become part of our daily lexicon, the traditions of Western spirituality have been largely unexplored by people searching for non-mainstream routes to spiritual experience. But for those who identify with Western culture, Western religious traditions have their own wisdom teachings that are more suitable to their needs and expectations. Many of those searching for alternative religions are not even aware that Western civilization has always had its own traditions, which are often hidden. In this fascinating introduction to non-mainstream Western spirituality, the coeditors of Gnosis magazine--today's leading journal of mystical spirituality--guide you through the teachings of Jung and Gurdjieff, the Kabbalah, neo-paganism, shamanism, alchemy, Sufism, and more. Explaining the history and practice of each tradition and describing its important figures, the authors present the ideas, strengths, and weaknesses of each tradition and offer a wealth of resources for those interested in pursuing these paths further.

Larry Dossey, M.D. has said "this book is a treasure. Highly recommended." This book represents a distillation of the research and inquiry that the authors undertook as editors of GNOSIS Magazine.